It's time for the Ohio Safety Congress (OSC) once again. In its 91st year, OSC the largest and longest-running regional occupational safety, health and workers' compensation conference in the U.S.
Due to the ongoing COVID-19 pandemic, OSC21 will be a completely online event on March 10 and 11, 2021.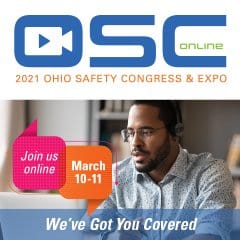 While we won't be gathering in person, please don't miss out on this opportunity to earn free continuing education credit by the International Association for Continuing Education and Training (IACET) at the educational sessions.
Registration is free, you'll just need your company's BWC policy number.