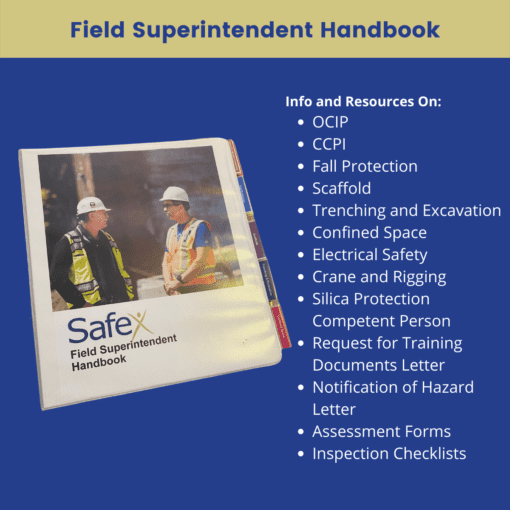 Construction Field Superintendent Handbook (Electronic Version)
$350.00
Our team of safety specialists has created the ultimate resource handbook for field superintendents.
This electronic download includes 60 pages of OSHA information, assessment forms, checklists and letters required for compliance. Handbook topics include:
OCIP

CCPI

Fall Protection

Scaffold

Trenching and Excavation

Confined Space

Electrical Safety

Crane and Rigging

Silica Protection Competent Person Assignment Notice Letter

Request for Training Documents Letter

Notification of Hazard Letter

Assessment Forms

Inspection Checklists
For $350 you can download the e-version and use it internally for your business. If you want us to print and assemble hardcopy binders for you, it's an additional $60 per handbook. Once you checkout, you'll have the option to order hard copy handbooks.